Socks "Rough Guide" to SL windsurfing, v0.5 (Or an FAQ, for lack of a better term...)
Introduction
When I saw windsurfing on SL, it looked like a lot of fun. The only problem was that unlike surfing, there are no information cards to help you out. Jut the 1 sentence of what to do, kind of, when you hop on the board. So, after some trial and error (lots of the latter), I have a lot of this stuff figured out. Consider this a "live" document, as I'll be updating it as I find out more information or figure out more tricks
I'm not a pro, I'm just a cat who hopped onto a windsurfer at the old Truth Beach and said "DAMN this is fun! How do I do flips?!?!?" So what terms I use may not always go along with what "real" windsurfers use and I'll update as needed. Also, windsurfing in SL adheres to what I call "Mario Physics", meaning that in mid-air, you can sometimes alter your movement and momentum in ways that in the real world you can not. This plays a lot into SL windsurfing, so I reference it a lot. And what follows is what works for me, it may be different on your system and setup, or I my be flat out wrong in some of these things and I don't quite realize it. So please bear with me on these explanations, and understand that I look at this as a video game, not as a real life simulation.
Also, All these images are on my "Koinup" page in a slideshow format. You can find the whole thing at
http://www.koinup.com/Socks/work/40471/
I had individual images, but it was KILLING my space there! If you want larger versions, go to that link, and you'll see them there.
The basics of movement
Movement on a windsurer is like any other vehicle in SL. Forward, back, left and right. You can use the arrow keys (up for forward, left, down for back, right), or "WASD". You can also jump using the "page up" or "E" key, but you need to press and hold the key to "power up" your jump. (for future reference, I will call this the "jump button" or just "jump") Page Down ("C") seems to have no purpose other than stopping or slowing down, but back is better.
I haven't been able to go in reverse very fast, if at all, so "backwards" is negligible and mostly should be used for stopping. As long as you're pressing forward, you will travel forward. Let go, and you will coast to a stop. Turning is pressing forward and left or right, as with any other vehicle.
While holding down jump your avatar will wave a hand in the air. This is a signal you're loading up power on a jump. The longer you hold the button, the more "power" you load up for the jump. The tradeoff is that while you're loading up, you are gliding and no longer accelerating or maintaining speed. You will decelerate rapidly if you are not careful. We'll go into jumping and tricks a little later.
Windsurfers have a cruising speed that isn't impressive. However, the skill is catching the SL wind. At certain angles you will see your avatar change body position, arms will lock, body will pull back and lean away from the sail. When this happens, you have caught the wind, and your acceleration and top speed will increase substantially. To catch the wind you may have to release and re-press the forward key, which almost simulates jerking on the sail to get in the wind in real life.
"Mario Physics" begins to show here. You can catch the wind on either side of the sail, and the animation / action is the same. One you are "stiffarmed", you can steer away from the wind and maintain your high speed as long as you do not release the forward key. It's possible to accelerate in tight circles, if you so desire, by hold and release long enough to put turn input in, but not so long as to turn sharply. The board's natural tendency is to make sharp turns until you reach full speed, so a light hand is needed to make sweeping turns up to that point. At full speed you can make long arcing turns by just holding L or R, and you'll make a long, sweeping turn automatically. If you need to turn sharply, let go of the forward key to start slowing down, and turn hard.
The real key to windsurfing in SL is getting up to speed, and keeping your speed up. Once you have the wind on either side of the sail you should try to keep the sail full. Practice long, sweeping turns instead of sharp ones, as longer arcs will maintain speed. There are times a sharp turn is needed, but you will only get impressive tricks off when moving at top speed.
Jumps
Jumping with a windsurfer is fairly basic. You need to get your speed up, load up by pressing and holding the jump button, and release. You then press a direction button to determine your movement. You must release the jump button before pressing the direction keys! Sometimes you will float into the air a little, this is normal and a sign of great air possibility.
Pressing left or right will spin the board rapidly in that direction. Pressing back will induce a reverse flipping motion. Pressing forward will induce a forward flipping motion. However, this alone won't always get you into a flip.
The best way to do stunts is to combine left/right with forward/back. For example, left/forward is the best way to get air on a front flips, back/right the best for back flipping. The left/right somehow gives enough twist to the leap to give it extra punch, possibly a little corkscrew action to put wind under the sail in real life terms, or just enough twist to get the board out of the SL water to make stunts easier. It's best to experiment with all of the key combos to learn which is better for you.
NOTICE : Since Havok4's release, there is curently no H4 friendly windsurfer. This means that the water drags over the nose of the board significantly to affect performance. It was possible before H4 to front-flip with impunity, now it's a lot harder but still possible. Again, it's speed management. Getting up to speed, keeping your speed up, and doing the tricks on the right part of the wave.
The hardest part of a trick is landing it. Often you end up 180 degrees off your starting point and it kills your speed as you're facing "fins first" and not "nose first". The best way around this is to either learn to land nose forward, or to quickly turn upon landing and get on the wind again. It's also possible to land on a wave, and use it to gain speed.
Interacting with the waves
Normal windsurfing is fun, I've had a lot of fun on "pure glass" water before doing just basic flip tricks. But to get some real power, you need to get on a wave. Waves in SL are more like skateboard ramps than water for windsurfers. For reference, the "heelside" is when your heels are closest to the wave, toeside your toes. For tricks it seems to make little to no difference, but to explain waves, it does.
Fluffy waves are fun to look at, but for windsurfing they're all but useless. You can make a nice looking technical run to the beach on them, but they offer little to no power for speed. They actually slow you down more than help, but if you're needing a small burst of speed, hitting a fluffy from the back can give you enough of a boost to make a jump that clears an obstacle. Barely.
Epics are fun, but it's riding by Braille. The windsurf camera puts you behind the wave on the "heelside" edge, and sometimes the wave covers your avatar on the toeside edge as well., so you really have no clue what you're doing or where you're going. It's possible to do some fun tricks, but you're not able to see them for yourself and it's VERY difficult.
Pipes are the ideal wave for windsurfers. Since they are translucent, when your camera goes behind the wave you still see yourself. Plus the wave is small enough that you can control yourself on the wave. From here out, I will be talking about Pipes and Epics only. All tricks work on them both, but are MUCH easier on pipes.
Understand that the windsurfer is not a surfboard, it's a boat. If you're trying to turning on a dime in the wave like you would on a surfboard, you will lose speed and never get stunts to work. Also understand that it's like skateboarding in that you need to be fluid in how you travel along the waves.
If you haven't already, leave the mini-map up. Learn what waves look like in it, and anticipate making waves on the map and not on the main screen. The camera is in a weird place on main screen, and makes it hard to navigate on that screen alone.
Now approach a wave at an angle with the intent on a light climb up the bottom part of the wave (the trough, but it looks more like a curb to me). If you do it right, your speed will kick up and you'll see yourself speed up. You can use this speed for tricks, or just yell "Wahoo" and go faster too, whatever floats your boat.
You can get some interesting effects going "nose first" into a wave and spinning in place on the wave itself, but it will kill a lot of your speed doing it. It can look REALLY cool, but understand you won't "nosepick" into a wave and be able to load up for a jump.
Stunting off a wave can get interesting. You hold jump for 1-2 seconds, let go, and start your trick. If you want to go up, be closer to the bottom with your board in the water and not on the wave. If you want to go out, turn into the wave and put our board over the water line. It's SL, there's no guarantees you'll go up or out on any given try, but it's how I've been trying to do it.
There are also times where your sail becomes trapped under the lip of a pipe. I call this being locked in, because you can't steer, you can't accelerate or move, you're just along for the ride.. If this happens, you'll be stuck and more than likely pushed backwards until you're ejected out the side of the pipe, the pipe hits the beach and stops, or you force your way out. The way out of this I've found is to load a jump, and try a front/right flip. If that doesn't work, try other combinations (front/L, back/R...) If you break loose, it will probably shoot you towards shore, enjoy the ride!
Planned jumps are, however, the better way to do tricks. the best way to launch off a wave is at the ends, where you have room to flip over the lip and away from the wave itself. It is possible to launch from inside the wave as well, you need to be further up the wall so your jump pushes you forward more than up. Some tricks will put you up and over the wave as well, and it's possible to ride on top of an epic! More "Mario Physics" at play.
Tricks
Most of your tricks will be key combinations, and you crawling all over your keyboard. In all cases, it involves loading up a jump first, then doing these tricks mid-air.
360's : Press left or right in air. You spin through a full rotation.
Spin loop : Performed in open water flat, back/left or right for a corkscrew flip
Table Top or Shove it : jump higher on the wave for an "out" jump, hold forward/(L o rR) and release when enough turn is achieved, then reverse with back and the opposite L or R. In RL Windsurfing this is more like a "Shove it" and as close to a tabletop as we're going to get.
Back loop : back/right to full rotation
Front loop : Forward/Left to full rotation (HARDER to do in Havok4!)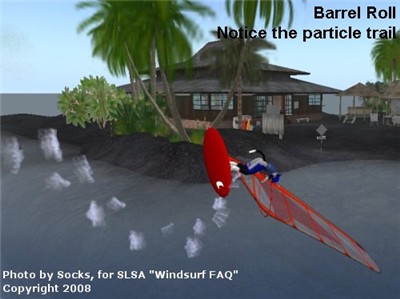 Barrel Roll : rotating around while parallel to the water. VERY hard to plan for, but spectacular trick when you're spit out of a pipe after being locked in.
SL specific Wave tricks using "Mario Physics" :
Cat Tap : Harder than it looks! Ride to the end of a pipe, jump before the end and start a back loop. Tap the TOP of the pipe with the nose, and roll out with a front loop (so back/r in, tap the top of the wave, front/l out, ride away clean) If you do this cleanly, you can turn around and re-enter the wave for another trick.
Pipe Rolls : Before reaching the end of a wave, jump with a back/R to loop with 180 degrees rotation. If done right, you're still in the pipe and can accelerate off the pipe wall. Ride through the inside of the pipe, repeat. It's possible to do this stunt all the way to the beach.
Pop-up : Ride hard directly at a pipe, load a jump at full speed, and front loop over the wave. The sail will catch on the pipe, so stay on it for two full rotations over the pipe. Land clean and you can resume your speed. (VERY hard in Havok 4!)
Wave Grind : VERY difficult, you'll do this mostly by accident. Unless you really try, in which case you'll never do it. Back loop off the end of a wave high on the back of the pipe. If you jump high enough, with enough right spin, you can end up on top of the wave. If you can stop it in time, you're on top of the wave like a skateboarder on a rail doing a "grind".
Hopefully, this "Rough Guide" will give you a starting point to enjoy SL Windsurfing! May the wind always be with you!
(Many thanks to "TWC" for use of the Epic, Tavarua for the fluffies and the smooth surface, and Tsunami Beach for the pipes! This guide is FAR from complete, but after being frustrated at a lack of information, I figured someone had to write one.)[/img]